Marketers across industries have been racing to get loyalty programs up and running in the last few years. On the surface these initiatives seem to be marketer's dream, giving organizations the ability to tap into the rich demographic and behavioral data gained upon sign up and with every purchase.
But wait, there's always a catch when something seems too good to be true. A recent study from Bond Brand Loyalty data revealed a little known dark side of loyalty programs.  The average U.S. customer has signed up for a whopping 13 loyalty programs, and half of these users do not active engage with the rewards offered through these programs..
In today's competitive landscape, we have to go the extra mile to stand out from the crowd and truly convert our customers into loyalists.  Use these 3 tips to boost engagement and encourage your customer to stay with you for the long-haul.
1. Make it memorable
Some of the most masterful loyalty programs have elements that excite and entice users for continued activity. Starbucks is known for incentivizing users with gamification, or through the reward of gaining free food or drink. The most  active Starbucks users are rewarded when they visit additional stores, purchase a beverage in the afternoon, or try a new food product within a certain timeframe.  Not only does this turn the task into an "adventure," but it also stands out amongst the dozens of other programs to which a user may be subscribed.
2. Be where your customers are
Extending the experience across channels is key to successfully engaging your users.
Consider launching an app
Keep in mind that, according to ComScore, half of American smart phone users download ZERO apps per month, but those that do download an average of 3.5 per month. Obviously, if you're going to have an app, make sure it has a true, differentiated value for those who WANT to be loyal to your brand.
App-related discounts, virtual design assistants, order reminders, product builders, content savers, and reward capture and redemption repositories are all great ways to set your app apart and make it usable in the long term.
With the appropriate opt-in, you can also utilize beacon technology to push personalized offers, reward reminders, product launches, location-based promotions, and more.
Walgreens has launched an impressive app that exemplifies ease of use. With the touch of a button, users can print photos, refill prescriptions, clip coupons and access rewards. In addition, they're making the experience memorable by enabling users to rack up points by logging their healthy activities.  Balance Reward members can add Walgreens to Apple's health app to track fitness milestones, and earn points for purchasing health related items like vitamins.
Take advantage of mobile wallet
Android Pay and Apple Wallet are not just for mobile payments. These platforms also present users with much of the functionality utilized by app developers, like saving rewards, coupons, tickets and passes, without the hassle of creating an app. In fact, Apple just partnered with Blackhawk Network to release even more advanced integration for loyalty programs in 2017.
Just over half of internet users* consider themselves loyal to a brand because of efficiency and ease of the product support or service. Almost as many believe that efficiency and ease of shopping and purchase are elements that make them loyal.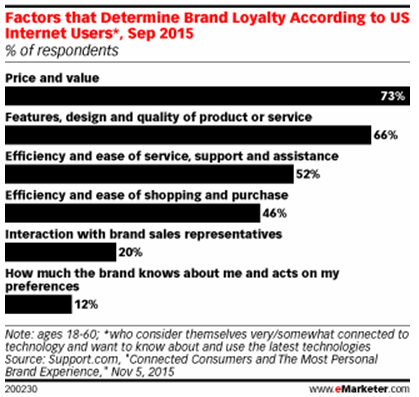 With these statistics in mind, a few of the savviest brands have turned to chatbots as a form of customer engagement.  Now that messaging apps like Facebook Messenger, Viber, WhatsApp, and WeChat have more users than the big four social networks, chatbots give marketers the ability to deliver one-to-one conversations to customers at scale.
By simply searching for a brand name on Facebook Messenger, for instance, a consumer can quickly order their favorite pizza at Domino's or roses at 1800 Flowers.  As Forbes notes, publishers like The Wall Street Journal are pinging users when their favorite stocks are updated, while HealthTap connects patients with over 100,000 doctors.  In short, there are a myriad of opportunities to engage your users in the venues which they spend the majority of time.
3. Make the reward…well…rewarding
Sephora's Beauty Insider program starts with one great reward, a free birthday gift. And folks, this is a GOOD, quality gift for beauty lovers.  GameStop is similar, providing a free subscription to Game Informer magazine to their Pro members along with year-round, set discounts on purchases.
However, what's unique about both of these programs is that they use their data for good. Not only is it rewarding to get something awesome and tangible in store, but to also know that your data is being used to personalize your experience.
Sephora  employees can quickly look up your past purchases to confirm that you're buying the right shade of makeup, while GameStop associates can look up your history and tell you if your old games can be traded in for store credit. GameStop takes this a step further by triggering an email directly from the associate's tablet, showing an image of the products eligible for trade and posting the trade value as a reminder.  Now THAT is meeting your customer where they are!
In summary, as you evaluate your plans for building brand loyalty in 2017, make sure that you're making your program memorable with exciting cross-channel experiences, and rewarding users with personalized tangible gifts, that wows.